Description
Amsoil P.i. Performance Improver Gasoline Additive. APICN
AMSOIL P.i. is a potent gasoline performance improver with concentrated detergent that aggressively cleans stubborn, power-robbing deposits from injectors, valves and the combustion chamber. Effective in port and direct injection systems. Bottle compatible with capless fuel systems. Cleans entire fuel system in one tank of gasoline. For use with cars and trucks. Treats up to 30 gallons. Add entire bottle to tank at fill-up. For best results, clean your fuel system with P.i. every 4,000 miles (6,400 km). Do not use with diesel, E85 or 2-stroke mixed fuel.
See the Product Data Bulletin for full details.
MAXIMUM DEPOSIT CLEAN-UP
Helps keep valves clean and moving freely.
Aggressive additives attack the most common forms of engine deposits and limit their effects.
REMOVES FUEL-INJECTOR DEPOSITS
P.i. removes deposits and keeps injectors functioning as they should.
Testing shows P.i. restored GDI fuel injectors to a 100% flow rate after one tank of fuel.2
RESTORES HORSEPOWER
Third-party testing demonstrated performance of P.i. using a 2016 Chevrolet* Silverado* with 100,616 miles on the odometer.
Following a single treatment with P.i., the truck measured an incredible 14% improvement in horsepower.1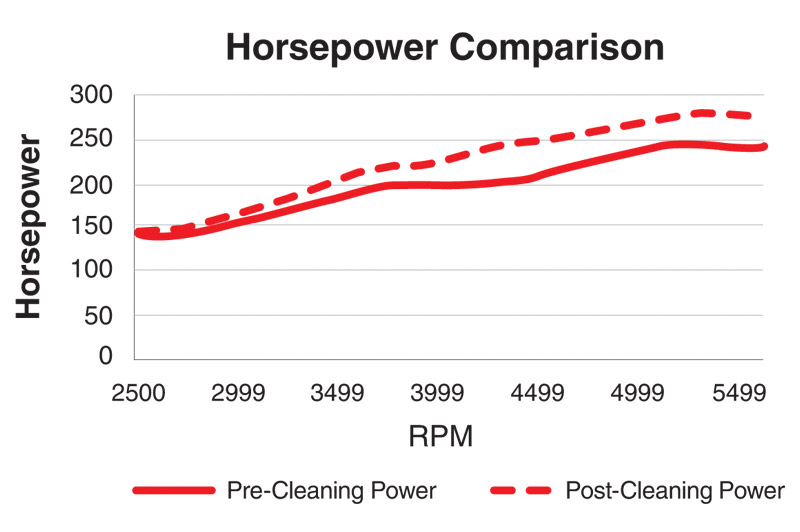 CLEANS COMBUSTION CHAMBER DEPOSITS
Fights combustion chamber deposits to help restore power, control knock, increase fuel economy and reduce the need for higher-octane fuels.
Protects against compression loss, difficulty starting and rough idling.
Reduces possibility of "carbon rap," when deposit buildup causes the piston to hit the cylinder head.
Decreases the possibility of pre-ignition "knock" or "pinging."
CAPLESS-COMPATIBLE BOTTLE
Bottle is fully compatible with capless fuel systems.